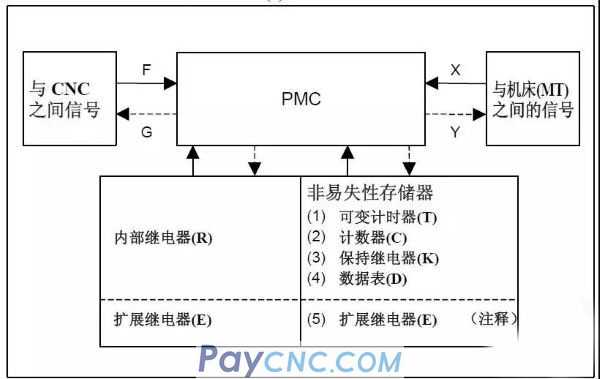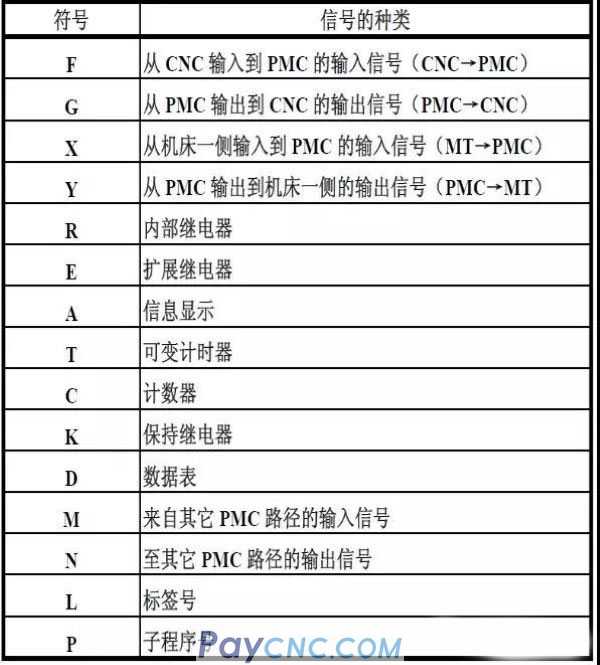 • X: Input signal from the machine tool side. Such as proximity switches, limit switches, pressure switches, operation buttons and other input signal components. PMC receives input signals from various devices on the machine tool side, and performs logical operations in the ladder diagram as the conditions for machine tool operation and the basis for diagnosis of peripheral equipment.
• Y: The signal output by PMC to the machine side. In the PMC control program, according to the design requirements of the machine tool, the output signal controls the solenoid valve, contactor, signal lamp and other actions of the machine tool to meet the needs of the machine tool operation.
• F: The PMC signal is input from the side of the system that controls the servo motor and spindle motor. The system part is to feed back the status of the servo motor and the spindle motor, as well as the signals that request related machine tool actions (such as moving signals, position detection signals, system preparation completion signals, etc.) to the PMC to perform logic operations as conditions for machine tool actions And the basis for self-diagnosis.
• G: The signal output from the PMC side to the system part. Control and feedback the system part (such as axis interlock signal, M code execution complete signal, etc.).
• R\E: Internal relay R, expansion relay E. The address used for the temporary storage of the operation result in the sequence program execution process. The address of the internal relay includes the reserved area used by the PMC system software. The signal of the reserved area cannot be written in the sequence program.
• A: The signal address of the information display. Among the instructions used in the sequence program, there is an instruction to display information on the CNC screen (DISPB)
• Non-volatile memory addresses: timer (T), counter (C), holding relay (K), data table (D) to keep the value in it when the power is off. These 4 are called PMC parameters.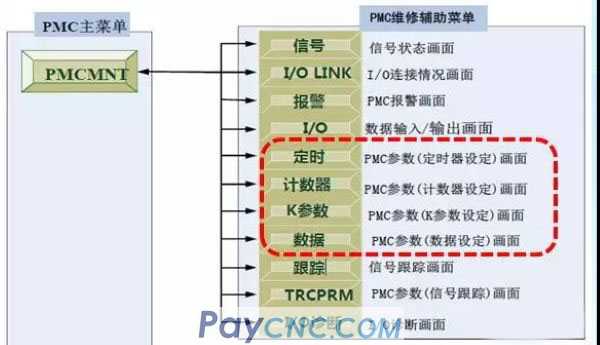 【Brief description of K parameter function】
FANUC [PMC maintenance] K parameter, for maintenance and debugging personnel, the use is still very wide, the holding type relay is a non-volatile memory, so even if the power is cut off, its storage content will not be lost. Do you know its function?
[Function of K parameter]
1. Some machine functions can be turned on/off
2. Some external alarms can be shielded
3. Some system interfaces can be hidden
4. It can play a maintenance role in PMC
5. It can be used as auxiliary signal in PMC
6. System K parameters play a special function
【Brief description of D data function】
FANUC PMC maintenance D parameter data table, for maintenance and debugging personnel, the use is still relatively wide, you can store various function data of machine tools, and can also be used as auxiliary signals in PMC;