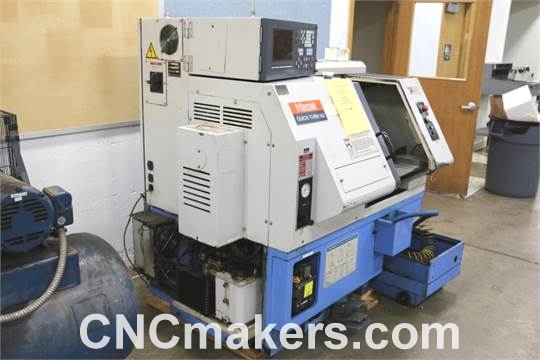 Mazak QT6G CNC Lathe Owner:
Mazak QT6G lathe from 1998, it has missing parts, And we would like to make a retrofit. It has 2 servomotors for the axes X, Y
750W PANASONIC brand without drivers and a 3.7 Kw spindle motor, 130/200 Volts, 50/233 Hz and 1500 to 7000 RPM. We would like to keep the spindle motor.
CNCmakers Support:
Following you may find CNC retrofit package for Mazak QT6G.
Turning machine CNC controller C1000T 1 set
(CNC controller for turning machine 2 axes simultaneously and 1 servo spindle)
AC Servo Unit for X axis GS2030T-NP1-110SJT-M040D(A2) 1 set
(Servo Motor+driver+cables+connectors, 2.3KW,15Nm,1500rpm,9.5A,130mm support)
AC Servo Unit for Z axis GS2030T-NP1-110SJT-M040D(A2) 1 set
(Servo Motor+driver+cables+connectors, 3.5kW,22Nm,1500rpm,17.5A,175mm support)
AC Servo Spindle Unit GS3048Y-NP2-ZJY208A-3.7BH 1 set
(Servo Spindle Motor+driver+cables+connectors , 3.7KW, max. 10000rpm)
All Cables(3 meters), Software & Manuals 1set