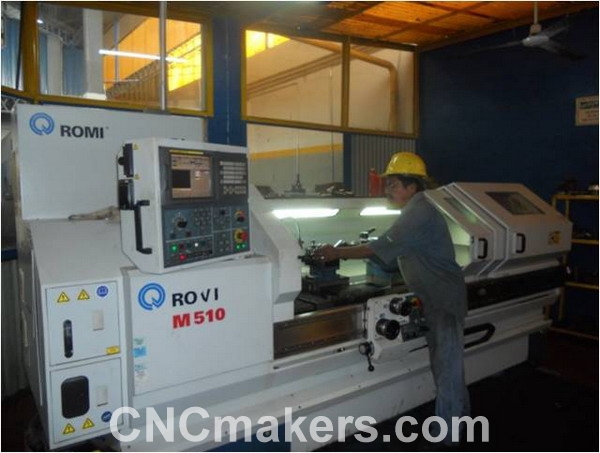 ROMI CNC Lathe M510 Owner
Hello CNCmakers, we want to retrofit our ROMI CNC lathe M510, it has Frequency inverter of 15HP, Spindel Motor is a Fanuc Model: a06b-0828-b100 # 3000
- I currently have Fanuc servomotors Model: a06b-0121-b577 # 7008 for the 2 axes, my question is, if I can sell the Driver that works with cnc control "980TDc TURNING MACHINE CNC SYSTEM" and Fanuc Servomotor. In any case sell me a ServoMotor and servodriver that has the same power of the indicated Servomotor.
I am going to realize a RetroFit to a CNC Lathe brand ROMI model M510, since its control and Driver is damaged. And I want to make it work using new CNC Control, Drivers and Servomotors.
I hope I understood, Quote me the whole KIT, including Interface cards, Cables and connectors.

CNCmakers Support:
Thanks for the detail information.
Following you may find the CNC retrofit package as requested.

CNC Retrofit Package for ROMI M510
Turning machine CNC controller C1000T 1 set
(CNC controller for turning machine 2 axes simultaneously and 1 servo spindle)
AC Servo Unit for X axis 6NM 1 set
(Servo Motor+driver+cables+connectors, 1.5KW,6Nm,2500rpm,7A,130mm support)
AC Servo Unit for Z axis 6NM 1 set
(Servo Motor+driver+cables+connectors, 1.5KW,6Nm,2500rpm,7A,130mm support)
AC Servo Spindle Unit 11KW 1 set
(Servo Spindle Motor+driver+cables+connectors , 11KW, max. 7000rpm)
All Cables(6 meters), Software & Manuals 1set