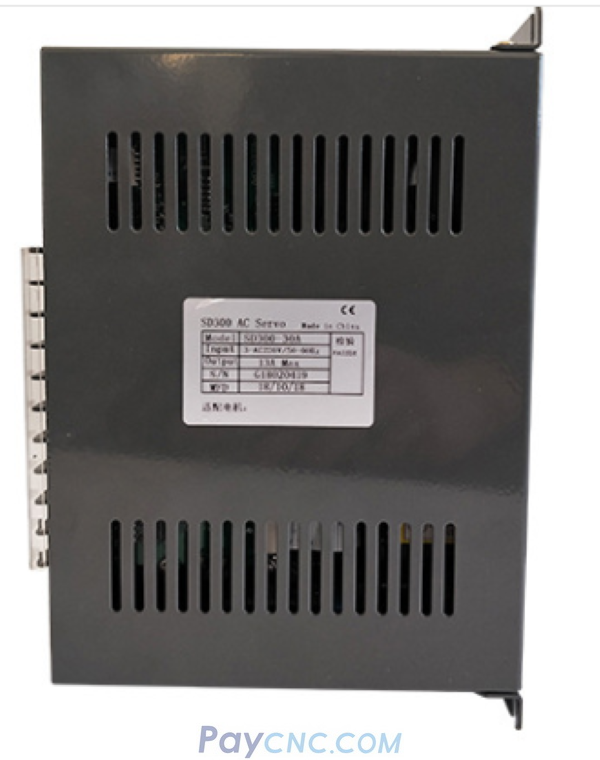 GXK-SD300-30
The all-digital AC servo drive adopts advanced control algorithm and IPM intelligent module, which can realize positional digital control. On the basis of BSD100, external brake resistors and DC reactor terminals can be added. The power range is more complete and currently covers power ranges from 500W to 5.5KW.
Position control mode:
High-speed optically isolated plus/signal signal, ccw/cw plus signal and A/B phase plus signal control mode, and differential drive pulse receiving mode, can effectively suppress interference, optional command pulse smoothing filter, make the system Smooth operation during acceleration and deceleration, increasing the digital filtering and detection of pulse signals.
Analog control mode:
Speed ​​and torque share an analog input. Differential or single-ended analog -10V~10V signal analog input has a normal zero offset that can be compensated by parameters. In the speed control mode, the internal speeds of numbers 1 to 8 selected through the input terminals are provided, the internal speed is adjustable, and the optional parameter sets the speed command acceleration/deceleration time to make the system run smoothly during acceleration and deceleration, and the torque control mode The internal torques of numbers 1 to 4 selected through the input terminals are provided, and the internal torque is adjustable.
Resonance suppression
The effect of suppressing resonance can be achieved by adjusting the internal parameters and the use of the trap.
Encoder signal output
The encoder signal can be divided by the set frequency division value and then output through the line drive.
Protective function
Various error detection mechanisms such as overvoltage, overcurrent, overload, overspeed and encoder anomalies are taken for granted.
Product advantages: