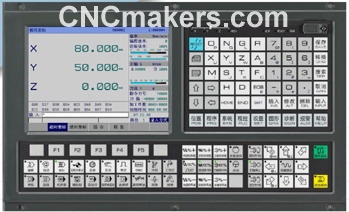 GSK990MC milling and drilling CNC system is an upgraded product of GSK990MA, with 8.4 inch high resolution color LCD display and brand new interface, supports macro B(statement style), open PLC supports online editing and compile, which makes logic control more easier and flexible, GSK990MC is suitable for milling machine, drilling machine or even grinding machines.
1) Maximum positioning speed 60mm/min, support metric/imperial programming, the minimum command unit is 0.001 mm or 0.0001 inch.
2) With rotation, scaling, polar coordinates, fixed cycle, rigid tapping and other slot milling complex circulation.
3) Adding machining time limit function.
4) Support PLC on line monitoring, editing, compiling and signal tracing.
5) Support Macro B(statement style).
6) More help information with tips, easier for learning, using and trouble shooting.
7) Standard RS232 and USB for file transfer, DNC and USB online machining.
8) 8.4 inch high resolution color LCD, supports Chinese/English/Russian/Spanish/Turkish.
9) GSK-link Ethernet bus function, supports 17 digit absolute encoder, with high accuracy and no need to return zero, which realize full-close-loop control(Optional).
Motion control functions

Control axis : X -axis , Z -axis , Y -axis ; simultaneously controlled axes ( interpolated axes ): X -axis , Z -axis ; axis with Cs

Interpolation methods : X, Z 2-axis linear and circular interpolation (Y -axis can be linked with other axis G00/G01 in )

Position command range : ± 9999.999mm

Minimum command unit : 0.001mm

Maximum feed rate : Linear 15000mm/min

Feed rate : 0 to 150% of the sixteen real-time adjustment

Maximum fast speed : 30000 mm / min

Rapid override : F0, 25%, 50%, 75%, 100% five real-time adjustment

Manual feed speed : 0mm/min ~ 1260mm/min sixteen real-time adjustment, can band control

Feed per revolution : 0.01 mm / r ~ 500mm / r ( need to install 1024P / r or 1200P / r spindle encoder )

Acceleration and deceleration mode: After the linear acceleration and deceleration

Electronic gear ratio : 1 to 65535 multiplier , divider 1 to 65535

Manual pulse generator function : 0.001mm, 0.01mm, 0.1mm third gear

Display Interface

* Display Type : resolution of 800 * 600 color LCD monitor 8.4 inches

* Real-time clock display

* Processing track display

* Entity analog processing display

G Function

* A total of 33 kinds of G code, including three kinds of single fixed loop code and six kinds of complex loop code

* 27 kinds of user macros , up to 32 inputs / 32 outputs,

* Subroutine call , the user macro call .

Thread function

* Common Thread ( following spindle ) / rigid tapping

* Single / multiple metric straight thread , taper thread and face threads , such as pitch and variable pitch screw thread

* Thread run-out length, angle and speed characteristics and parameters set by the program

* Thread pitch : 0.001mm ~ 500mm ( Metric ) 0.06 teeth / inch to 25400 teeth / inch ( Inch )

Compensate Function

* Pitch error compensation : X, Z, Y -axis compensation for each 360 points , the amount of compensation for each point ± 0.007 × magnification compensation

* Tool compensation implementation: Mobile Tool / coordinate offsets ( by parameter setting )

* Tool compensation : 64 sets of tool length compensation , tool nose radius compensation

* Backlash compensation : (X, Z axis ) 0 mm ~ 65.535mm

T

Tool function

* Adapter turret : maximum set at 16 -position electric turret, six Xin turret ( 12 stations ) , de turret ( coded or counting type )

* Tool change : MDI / automatic or manual tool change relative absolute tool change , tool selection forward , reverse lock

* Knife ways : fixed knife , trial cutting back on the knife mechanical 0:00

* Tool signal input: Direct input

S Spindle Function

* Spindle speed switch control : S1, S2, S3, S4 fourth gear switch control

* Spindle speed analog voltage control : Spindle speed 0V ~ 10V analog voltage control , you can set fourth gear spindle automatic transmission

* Spindle jog control

* SP.CONTOURING cutting function ( Spindle analog control mode )

M Accessibility

* Manual / MDI / automatic mode to control the spindle forward, reverse , stop

* Coolant start and stop

* Lubricating start and stop

* MDI / automatic mode control chuck clamp / unclamp control tailstock forward / back

Program Editor

* Program capacity : 57MB, 500 programs

* Format: relative / absolute mixed programming

* Subroutines : Editable , support quadruple nested subroutines

Communicate

* Front RS232 communication interface , communication interface is standard ;

* Part program parameters and other documents with PC bi-directional transmission , support system upgrade

* Front USB interface, so transfer part programs , parameters and other documents easier

Adaptation component

* Switching Power Supply : RS-100-24 ( supporting the provision , attached installation )

* Drive unit : GE2000, GS2000 series of digital AC servo unit , etc.

* Turret controller : GSK TB turret controller