I would like to request a quote for a CNC retrofit on my Hitachi Seiki VK-45 milling machine.
The spindle motor is a Fanuc A06B-1006-B908. This servo is fine but the drive is failing. I would like to add an encoder to this to enable rigid tapping.
The Z axis servo is a Sanyo Denki 20BM220MBP41 and it's drive is a 27BA050FXT08 with SUMATAK encoder LMA-2508M-S86
The X & Y axis servos are also Sanyo Denki 20BM120MXP41 and it's drive is a 27BA030FXT08 with SUMATAK encoders LMA-2508M-S86
Hydraulic valves are Daikin JSO-G02-2CA-20-N
Limit switches are mechanical contact
Position switches are metal proximity indicators.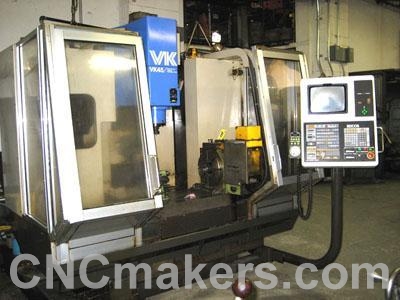 Following you may find our CNC retrofit package as requested:
CNC controller for milling with 3 axes simultaneously
1 set
AC Servo Motor+driver+cables+connectors,2.7kW,18Nm,1500rpm,16.5A,175mm support
2 sets
AC Servo Motor+Brake+driver+cables+connectors,3.3kW,22Nm,1500rpm,19A,175mm support
1 set
AC Servo Spindle Motor+driver+cables+connectors,7.5kW, max.7000rpm
1 set
External MPG
1 unit
All cables, English user manuals and software
1set