GSK928 servo-driven integrated lathe CNC system, using 32-bit high-performance dual-core CPU and ultra-large-scale programmable gate array integrated circuit chip FPGA to form the control core to achieve um-level precision motion control
The system has a 1024*600 dot matrix color graphic LCD display interface, and uses the international standard numerical control language-ISO code to write part programs. Full screen editing program, Chinese and English operation interface, real-time tracking display of processed parts graphics, simple and intuitive operation.
The GSK928TS servo drive integrated lathe CNC system integrates a servo drive module, which can be matched with an absolute servo motor or an incremental servo motor. The outer circle, end face, groove, taper, arc, thread, etc. can be processed through programming. Automatic feeding function, with high cost performance.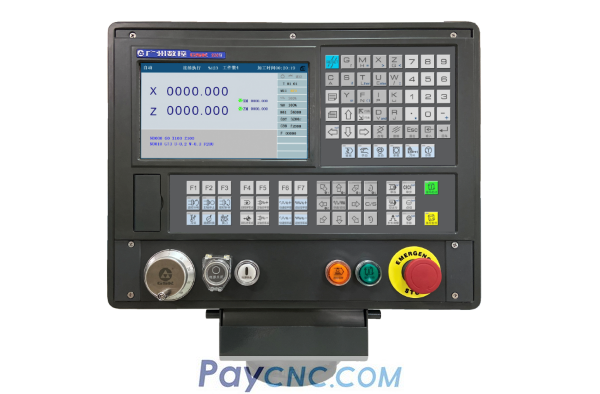 Product technical features
X and Z linkage can realize short straight line high-speed smooth interpolation, 0.01mm interpolation accuracy
Optional C-axis (set by parameters), C-axis can not only realize rapid movement, feed (inching, single step, MPG feed) movement, individual tapping movement, but also can realize setting coordinate system and program return Zero, manual integration back to zero and other operations
Integrated servo drive module, no need to add additional servo drive unit
The system modifies the servo drive parameters online and monitors the status of the servo drive in real time, which is efficient and convenient
Flexible and convenient programming, with sentence programming function
USB interface communication, convenient and fast operation
Minimum command unit 0.001mm, command electronic gear ratio (1~9999999), (1~9999999)
It can realize various automatic tool rests, spindle automatic shifting, etc.
With pitch error compensation, backlash compensation, tool length compensation, tool nose radius C compensation function
Adopt exponential acceleration and deceleration control to adapt to high speed and high precision machining
With automatic chamfering function
With tapping function
With process monitoring function
It can cut metric and inch threads, end-face threads, convenient pitch threads, continuous threads; high-speed thread run-out processing
Full screen editing of part programs, 255 processing programs can be stored;
Large screen true color LCD display
Real-time tracking display of MSTF status during processing
Provide multi-level operation password function to facilitate equipment management
Parameter backup function
Parameter and tool compensation data communication function
Support two-way communication between CNC and CNC, PC, CNC software can be upgraded through serial port
Support two-way communication between CNC and USB, CNC software can be upgraded by USB