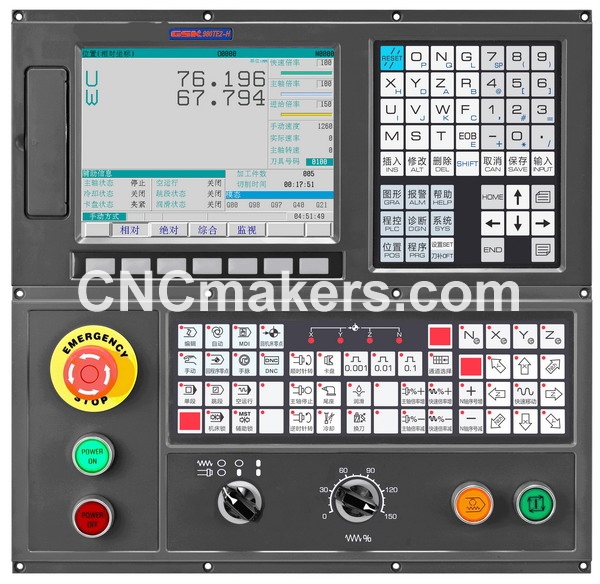 GSK980TE2 including horizontal and vertical mounting structure, GSK980TE2-H and GSK980TE2-V from CNCmakers.
GSK980TE2 is Ethernet bus type lathe CNC system, adaptation slant bed turning machine, with processing
efficiency and high precision, it is easy to learn. Supports GSK-LINK Ethernet
bus, absolute 130 000 line encoder, servo turret and four-station turret, etc.
it has three-state switch and Cs-axis control, supports graphics (template) programming function.

Characters:
l)High-precision , high efficiency and fast response, stable performance, maximum positioning speed 30m/min, maximum feed speed 15m/min.
2)AC servo spindle adaptable with continuous positioning.
3)Support quadratic curve interpolation , interpolation ellipse , parabola interpolation function , with a variety of complex fixed cycle.
4)Support metric/imperial programming with automatic chamfering , C tool compensation , macro , automatic tool compensation function.
5)8.4 -inch color widescreen LCD display , support for Chinese/English display.
6)Front RS232 communication interface , front USB port, support U disk file operations and software upgrades.
7)Support MPG handwheel,external MPG pendant and servo turret.
8)With prompted alarm help tips, for easier troubleshooting.
9)Security features, including protective doors, three-color lights, emergency stop,hardware stroke limit , software limit detection.
10)Support GSK-LINK Ethernet bus function , easy connection, scalability,support for 17 absolute encoder , high precision, no need to return zero,
powerful servo debugging tools can adjust servo parameters on the CNC.
11)Simplify the programming process , support graphics template programming (optional) and physical analog processing functions.
12)With PLC control module and the PLC axis function (supports up to 16 axes), open interactive features , more suitable for completecated machine
retrofitting (optional ).