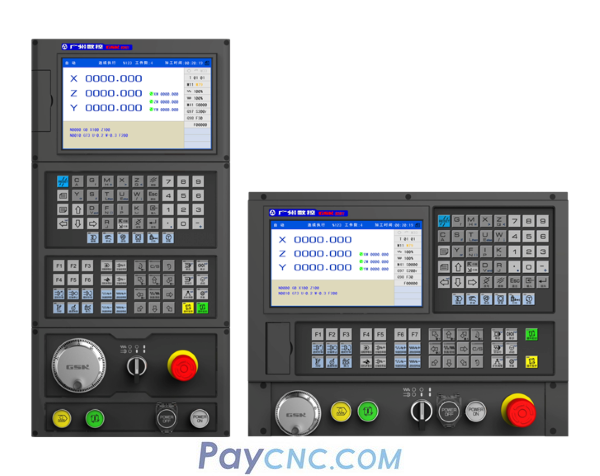 Technical characteristics
High-end, atmospheric design
Provide horizontal and vertical panels;
Hardware upgrade
928Ti adopts 9-size 1024 * 600 dot matrix screen. Compared with the 7-inch screen film of 928TEa, the visible area is increased by 29%, and the display effect is clear and delicate;
The number of I / O interfaces of the 928Ti has been increased to 32 points of input / 32 points of output. Compared with the 928TEa's 23 points of input / 18 points of output, the number of system I / O is more sufficient and the expandability is improved;
The 928Ti power supply circuit is redesigned, using a single 24V power supply to improve system stability.
Features
With flexible and diverse help functions;
Full screen editing, part program error checking in advance, simulation drawing motion track;
Introduction to editing mode system instructions;
Various operations are simple, safe and easy to use.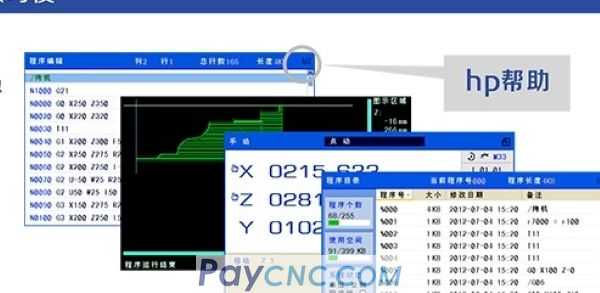 Automatic lathe feed control function
While processing or other operations, the system can use the new automatic feeding function to realize feeding while processing.
Use 928Ti system with feeding mechanism instead of traditional PLC to control feeding, effectively improve processing efficiency and save costs;
Provide 99 automatic feeding subprograms storage, and can execute up to 16 automatic feeding subprograms at the same time;
Use M command and some macro commands to control the feeding action;
The user compiles various feed failure alarm contents according to needs.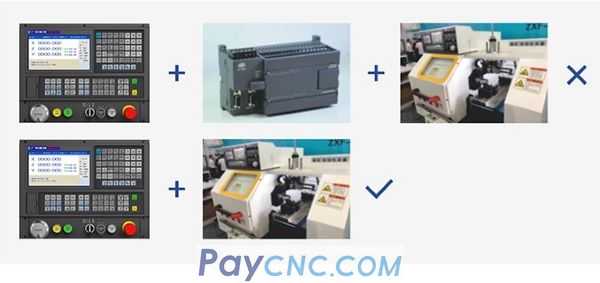 Groove processing function
Using G71 axis car rental cycle instructions, a group can be realized. However, the outline along the Z axis must be monotonically increasing or monotonic. If the profile is monotonically changing along the Z axis, machining can be performed. Compound cycle rough cutting of grooved instruction group . Decreasing along the X axis, the following contours cannot be processed: The diagram is as follows:

Unique combination of control and machining functions
Function combination to realize multiple power head speed control;
Parameter settings can be modified to achieve the function of the two-headed car;
Old thread repair function combination for repairing refurbished mine bits;
During cutting, Y-axis drilling or feed preparation can be performed at the same time;
Special trajectory offset processing function combination;
16 buttons, 8 knobs, 8 foot switches, multiple modes of combined operation;
Rich macro programs and process monitoring functions to cope with various complex applications.
Sentence programming can realize complex programming processing such as ellipse and parabola

Unique instruction-G38 rigid tapping thread
For deeper blind holes that are not convenient for chip removal, you can use G38 to take a first attack, retreat a bit, and then tap a bit deeper. You can also set the spindle speed during advance or retreat, that is, to achieve slow forward and retreat It guarantees both quality and efficiency.
The customer's practice shows that this method has the advantages of beautiful workpiece orifices, difficult to break the knife, and easier adjustment by the user.

Pitch error inflection point input, fine compensation
Just input a few sets of inflection point data on the curve, and perform fine smooth compensation automatically.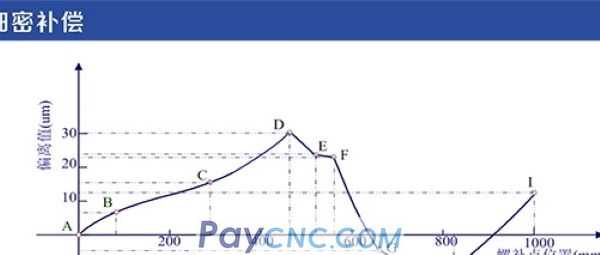 Can design dedicated display interface
A dedicated display interface can be designed to remind the operator how to operate.

Multiple instructions execute simultaneously
Non-associated accessories can move at the same time, thereby improving processing efficiency.
Smooth output pulse
Emphasis is placed on improving the uniformity of output pulses in the cutting state, thereby improving the precision of precision cutting, the surface texture of the workpiece, and the sharp marks on the tool tip.
Short-line high-speed smooth interpolation
Adopt forward-looking control to achieve high-speed connection transition;
Short straight line for smooth processing of ellipse, parabola five marks.