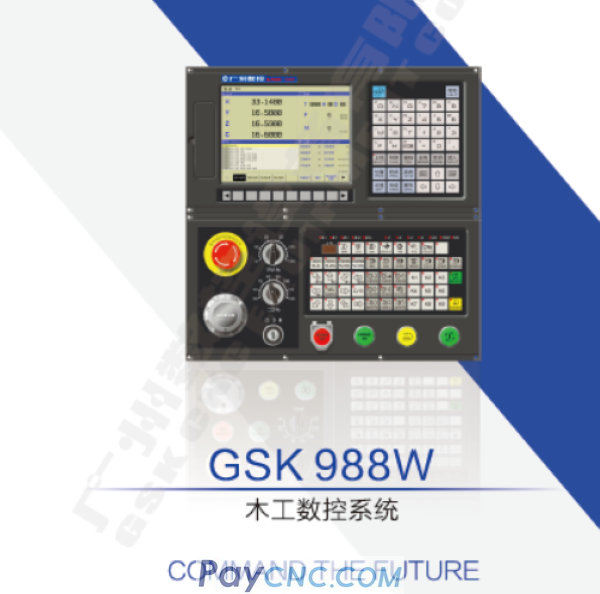 GSK988W Woodworking CNC System
GSK988W CNC system is a cost-effective woodworking CNC system. Based on dual-core hardware architecture, it supports the GSK-Link industrial Ethernet bus with independent intellectual property rights to connect to the servo drive unit and IO unit. It also supports the EtherCAT bus and adapts to the standard CoE interface servo and IO. unit. Support speed forward technology, high-order spline fitting technology, jerk control, support user-defined interface, support automatic tool setting, support handwheel trial cutting, return function, support breakpoint processing function, etc., which can meet the requirements of woodworking cutting , Sheet processing, engraving and milling application requirements.
System Configuration:
Feed axis: 6 axis
Spindle: 3 axes
Cs axis: 3
OIO unit: 4
Encoder interface: 2 way
Handwheel: 2
LCD: 8.4 "TFT
Technical characteristics
Interpolation cycle: 1ms
Maximum speed: 100m/min (at 0.1um accuracy)
Support look-ahead forward control technology
Support high-order spline fitting technology
Support jerk smooth control
Support automatic tool setting
Support user-defined interface
Support handwheel trial cut and return function
Support breakpoint processing function
Support seamless access of automated production lines
Support remote monitoring function
Support USB, network communication interface, realize file
Transmission, DNC processing, USB online processing
Support GSK-LINK Ethernet bus function
Support high resolution absolute encoder, high precision, no zero return
Support EtherCAT bus
Support PLC online editing and compilation
Support sentence type macro program, programming is more concise
Provide system debugging function to facilitate machine tool assembly and debugging
Standard GR2000L series bus servo drive unit
And absolute encoder motor, can be adapted to grating ruler
Standard GR3000L series bus spindle drive unit can be equipped with magnetoresistive encoder and magnetic grid to realize high-precision C-axis machining
Expand up to 4 IO unit slave devices, the number of input and output points is no longer a bottleneck
Supporting the adaptation of the gateway can realize seamless connection between CNC machine tools and industrial robots, truss machinery and other automation equipment to build automated production lines.
GSK988W CNC system uses GSL-Link industrial Ethernet bus to control and connect slave devices, and also supports EtherCAT bus