FREQUENCY INVERTER INTRODUCTION
(High Performance & Vector-Control AC Driver)
■Quick response is available by using special DSP chip which is used to
control high speed motor
■The modular hardware design can make system work with high stable
performance
■Perfect shape design with fluent outline is popular with customers
■The fans of AC driver can be replaced easily by adopting independent wind
channel. The effect of heat dissipation is very good
■Users can choose the following four control method according to their
application needs: Vector Control without PG Card; Vector Control with PG
Card; Torque Control; V/F Control
■There are two ways of analog signal output and one way of pulse signal
input. More powerful multi-functional spare terminals are available for choice
■The special function of auto-adaption can effectively solve the problem of
frequent trip-off caused by over current
■AVR function can make the AC driver don't stop when instant power-fail
occurs
■The functions like PID inside, 16 steps of speed control and simple PLC can
meet different application needs
■Users can choose PC or PLC to control the upper computer by RS485
communication interface with MODUS RTU ASCII protocol inside
Technology Features
I/O characteristics
Rated Input Voltage Range: 380V/220V 15%
Rated Input Frequency Range: 47~63Hz
Rated Output Voltage Range: 0~Rated Input Voltage
Rated Output Frequency: 0~650Hz
Peripheral Interface Characteristics
Programmable Digital Input: 6 input channels
Open Collector Output: provide 1 output channel
provide 1 output channel )
Analog Output: Provide 2 output channels:
FM Terminal: 0/4~20mA or 0~10V
AM Terminal: 0 ~10V
( notice: 7.5KW and below only provide FM terminal )
channel: 0~50 KHz
Control Characteristics
control (SVC) mode, V/F control mode, Torque control mode
Overload Capacity: 150% of rated current for 60 seconds and 180% of
rated current for 10 seconds.
Start Torque: 0.5Hz/150% (SVC)
Rotation Speed Ratio: 1:100 (SVC)
Speed Control Accuracy: 0.5% of maximum speed
Carrier Frequency: 1.0~15.0 KHz
Function Characteristics
communication setting, PID setting, etc.
PID control function
Multi-speed control function: 16 steps speed control
Oscillating frequency control function
Non-stop function when instantaneous outage happens
Automatic voltage adjustment function: automatically keep the output
voltage constant when power supply is not stable.
Provide up to 25 kinds of faults protection function: over-current,
overvoltage, under-voltage, over temperature, lack of phase, overload and
other protection function.Size Form (Power Range≤7.5KW ):

Votage
Power Range(KW)
A(mm)
B(mm)
H(mm)
W(mm)
D(mm)
Installation Aperture
(mm)
Installation Size
Product Size
220V
0.2~0.75
74.5
135
149
85
118.5
3.5
1.5~2.2
88.2
162.5
176.6
101.8
137.9
5.5
380V
0.75~4
88.2
162.5
176.6
101.8
137.9
5.5
5.5~7.5
115.8
245.5
266.1
132
163
5.5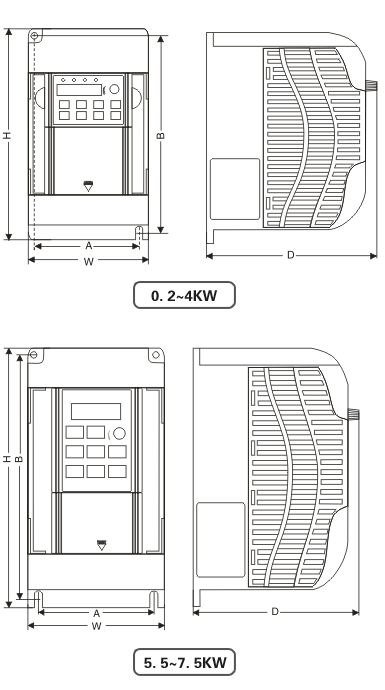 Size Form (Power Range:11~630KW ):

Power Range(KW)
A(mm)
B(mm)
H(mm)
H1(mm)
W(mm)
D(mm)
Installation
Aperture
(mm)
Installation Size
Product Size
11~18.5
156.6
378.3
355.4
392
212
190
Φ6.2
22~37
235
447
435.5
463
290
215.9
Φ7
45~55
260
580
552.5
600
390.4
267.7
Φ10
75~93
343
678
656.6
700
478
312.4
Φ10
110~160
449
902.5
881
928.5
579
381.2
Φ10
185~280
420
1030
980
1060
650
384.5
Φ12
315~400
520
1300
1200
1358.5
800
393
Φ14
450~630
-
-
-
2200
1200
500
-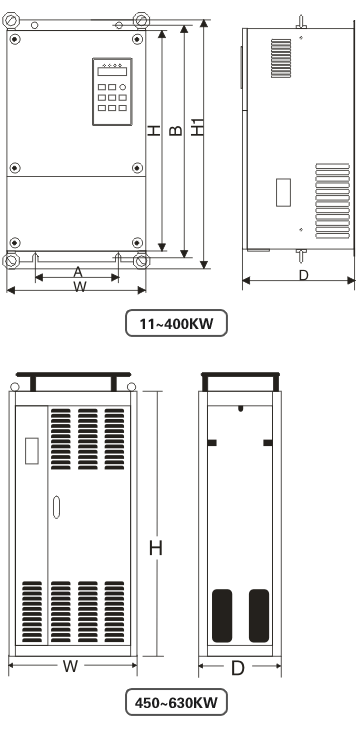 Frequency Inverter User Manual: