ZJY AC Servo Spindle Motor
ZJY AC servo spindle motor with Impressive outline and compact configuration, with totally enclosed air cooling structure, beautiful appearance, compact structure.
Low electromagnetic noise, steady running and high efficiency, with optimal electromagnetic design.
Reliable stability,little vibration and low noise of motor run within a high speed range, with imported high precision bearings and high precision rotor dynamic balance processing
.
Reliable use under the -15
~
40
?
ambient temperatures as well as dust and oil fog environment, with special corona resistance enamelled wires for frequency conversion motor, F insulation degree and IP54 protection degree.
high speed, high precision photoelectric encoder, which can be used for high precision speed and position control if matched with a high performance drive unit.
Strong overload capability supporting reliable running for 30 minutes at a 150% rated power.
Wide timing range up to a speed of 10000rpm.
High performance-cost ratio with shock-resistance and long life.
Technical parameters

Appearance dimension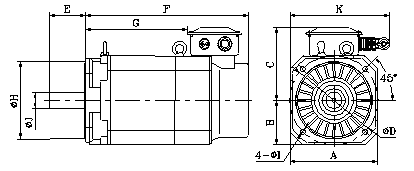 Flange installation(B5)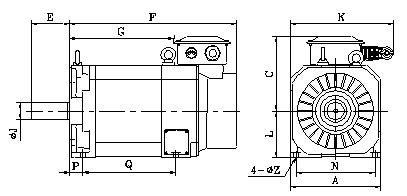 Foundation installation(B3)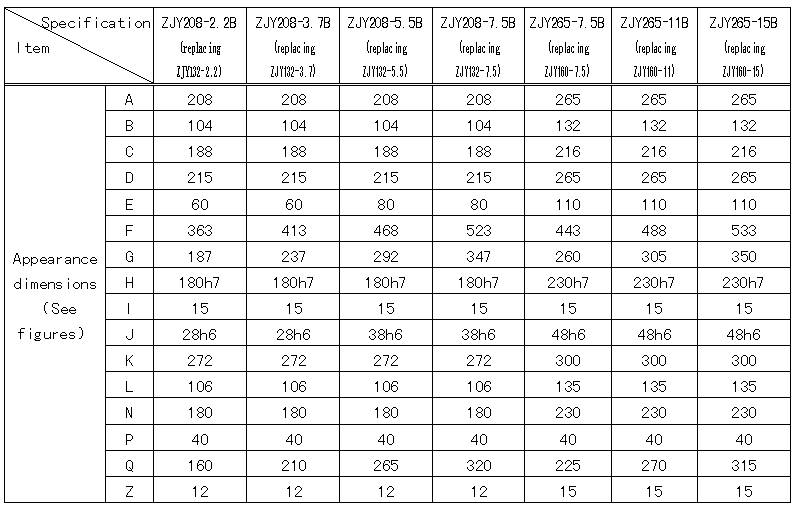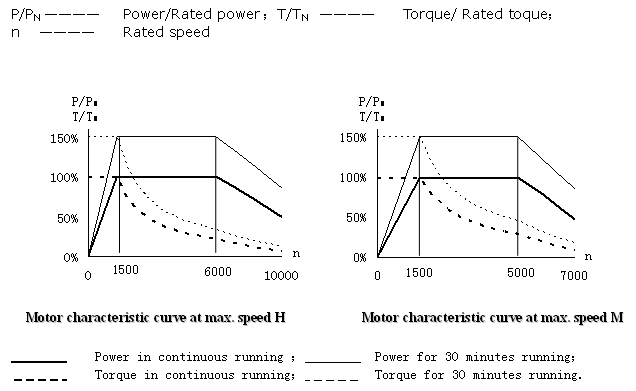 New models

Depends on AC servo spindle motors sizes, the AC servo drivers model name could be DAP03,DAY3025 or DAY3100. Following are the matching AC servo spindle motor and driver units:
DAY3025-ZJY208-2.2BH-B3[B5
,
B35] Rated power: 2.2KW, 30min. power: 3.7KW
DAY3025-ZJY208-2.2BM-B3[B5
,
B35] Rated power: 2.2KW, 30min. power: 3.7KW
DAY3025-ZJY208-3.7BH-B3[B5
,
B35] Rated power: 3.7KW, 30min. power: 5.5KW
DAY3025-ZJY208-3.7BM-B3[B5
,
B35] Rated power: 3.7KW, 30min. power: 5.5KW
DAP03-ZJY208-5.5BH-B3[B5
,
B35] Rated power: 5.5KW, 30min. power: 7.5KW
DAP03-ZJY208-5.5BM-B3[B5
,
B35] Rated power: 5.5KW, 30min. power: 7.5KW
DAP03-ZJY208-7.5BH-B3[B5
,
B35] Rated power: 7.5KW, 30min. power: 11KW
DAP03-ZJY265-7.5BM-B3[B5
,
B35] Rated power: 7.5KW, 30min. power: 11KW
DAP03-ZJY265-11BM-B3[B5
,
B35] Rated power: 11KW, 30min. power: 15KW
DAY3100-ZJY265-15BM-B3[B5
,
B35] Rated power: 15KW, 30min. power: 18.5KW
DAY3100-ZJY265-18.5BM-B3[B5
,
B35] Rated power: 18.5KW, 30min. power: 22KW
DAY3100-ZJY265-22BM-B3[B5
,
B35] Rated power: 22KW, 30min. power: 30KW
User Manual Download:

ZJY_Series_AC_Asynchronous_Spindle_Motor_User_Manual.rar